by Casey McDonald
The Department of Theatre and Dance's final theatre production of the 2017-2018 season, Bare: A Pop Opera will take to the stage April 12-15 and 19-22. Bare is a "beautiful coming of age show about teens in a Catholic boarding school discovering their sexual identities and who they are as people, all the while struggling with their faith," Madeline Hall explains.
Hall, a freshman who plays Ivy Robinson in Bare, comes from Chicago, Ill., and is earning a degree in musical theatre performance.
There are a few large messages that you can take away from Bare, but one of the main ones you encounter is "about two boys in a Catholic boarding school who are trying to navigate adolescence and find true happiness," Brock Crockom says. Crockom, who plays Jason McConnell, is the only member of the cast not on a theatrical track, but he brings a great talent to the stage as a vocal performance student.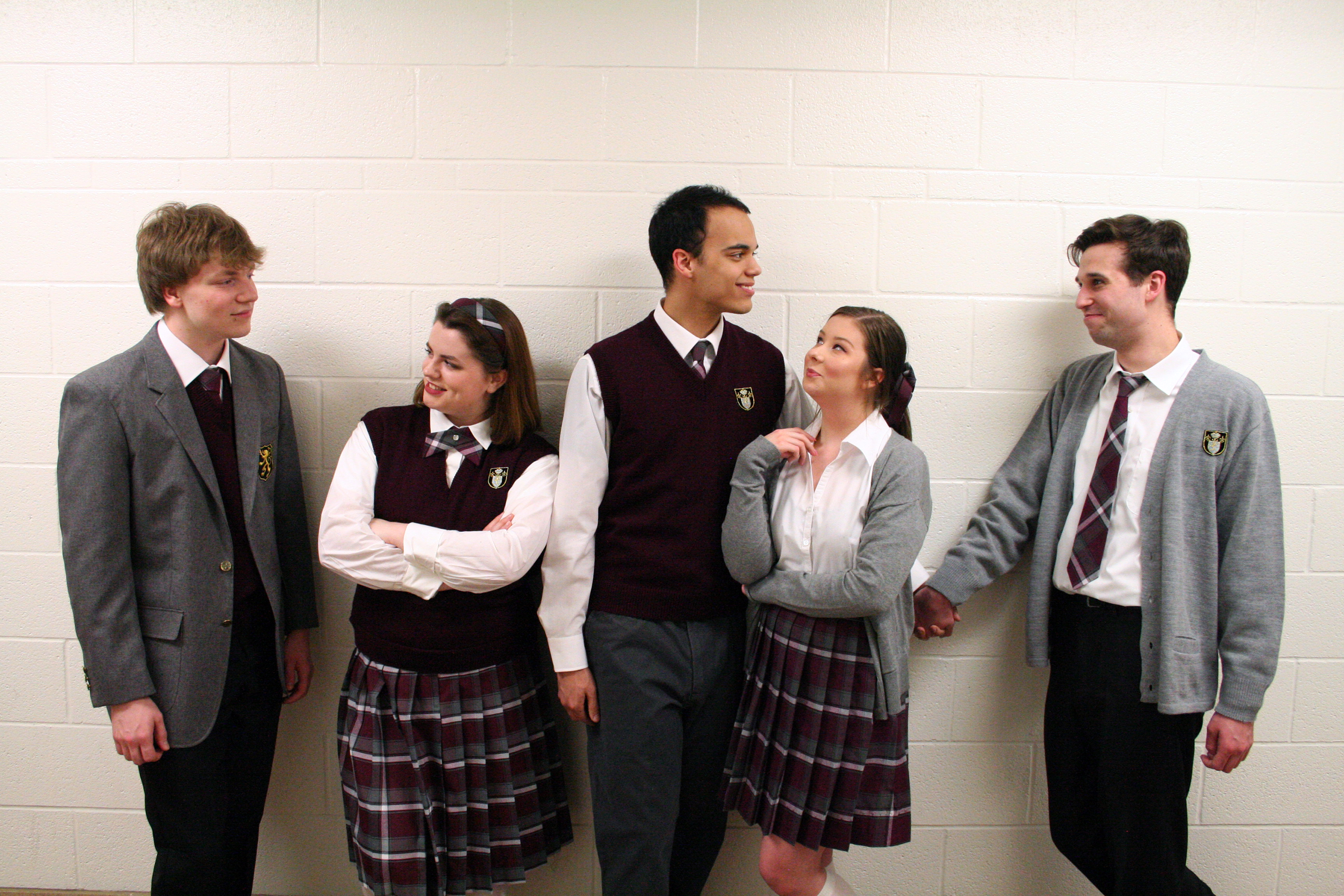 There are five main characters that you follow throughout the 2-hour and 20-minute show, as you learn not only who they are as individuals but their relationships with each other.
Nadia McConnell, Ivy Robinson's sassy roommate, is always hiding her insecurities through jokes and insults. Nadia will be played by sophomore musical theatre student Taylor Jump.
According to Hall, Ivy Robinson is well liked and a popular girl with a big social life. On the inside, however, Ivy is sensitive and cares a lot about how people perceive her. You find that she has the attention of Matthew Lloyd, "a guy who's very sincere and honest and comes in second a lot," Edmund Castle explains. Castle, a freshman studying acting in theatre, plays Lloyd and says that throughout the show you will start to see his character continuously compete with Jason McConnell.
"Jason is an incredibly intelligent and talented young man who is being pulled in a lot of different directions. He always does his best and tries to make others happy, but in doing so, he struggles to find his own happiness," Crockom says.
Peter Simmonds, Jason's romantic interest, is played by sophomore musical theatre student Jack Saunders.
"Peter is an optimistic, loving, [and] friendly person who gets along with everyone. He holds a secret that could change the way that everyone looks at him. He's gay [and] has been in a relationship with his roommate Jason for years but has kept it closeted. He has a need to come out and be true to who he is because he is tired of hiding, but sadly Jason disagrees. I find it so inspiring how Peter manages to keep everything together while dealing with so many internal struggles," Saunders explains.
 Bare deals with many different social issues that can connect with people of all ages, but especially in today's society, our youth. Between figuring out your sexual identity, teenage pregnancy, drugs and alcohol, as well as self harm and depression, it is an emotionally riveting show.
"This show really opens your eyes to the pain that someone who is hiding within themselves is really going through," Castle explains. Saunders, feeling that this is the most powerful show he has been a part of, continues, "The issues that these characters are facing affect hundreds of people every day."
To get a great show, however, it takes a lot of work and a long rehearsal process. After auditions at the end of November, the cast, stage management, and directors all got together to discuss and read through the show before break. From then, directors and faculty members Justin Amellio, assistant professor of theatre, and Jessica McCormack, associate professor of voice, helped students through the task of working hard and preparing over winter break for the first rehearsal that would came in mid-February.
"I really love working with Justin, he is such an incredible mind with such beautiful ideas. I find myself very proud to work with him," Hall says.
Crockom is a junior and has sung in front of many audiences before in vocal recitals, this will be the first stage show that he will be a part of.
"Everyone involved in the production is extremely professional and easy to work with... I have had a great time," Crockom says.
Having worked with Amellio on many productions, and this being the second musical, Saunders expresses his admiration for his work, "I'm such an admirer of Justin Amellio's directing skills, I can truly feel his passion for the show and it's so inspiring. It's an extremely tough show, but it's an extremely important show."