by CHRISTINA CLARK
Each piece is a unique representation of an experience, memory, or emotion interpreted from conversations with local veterans, and in some cases, the artists' own experiences in military service.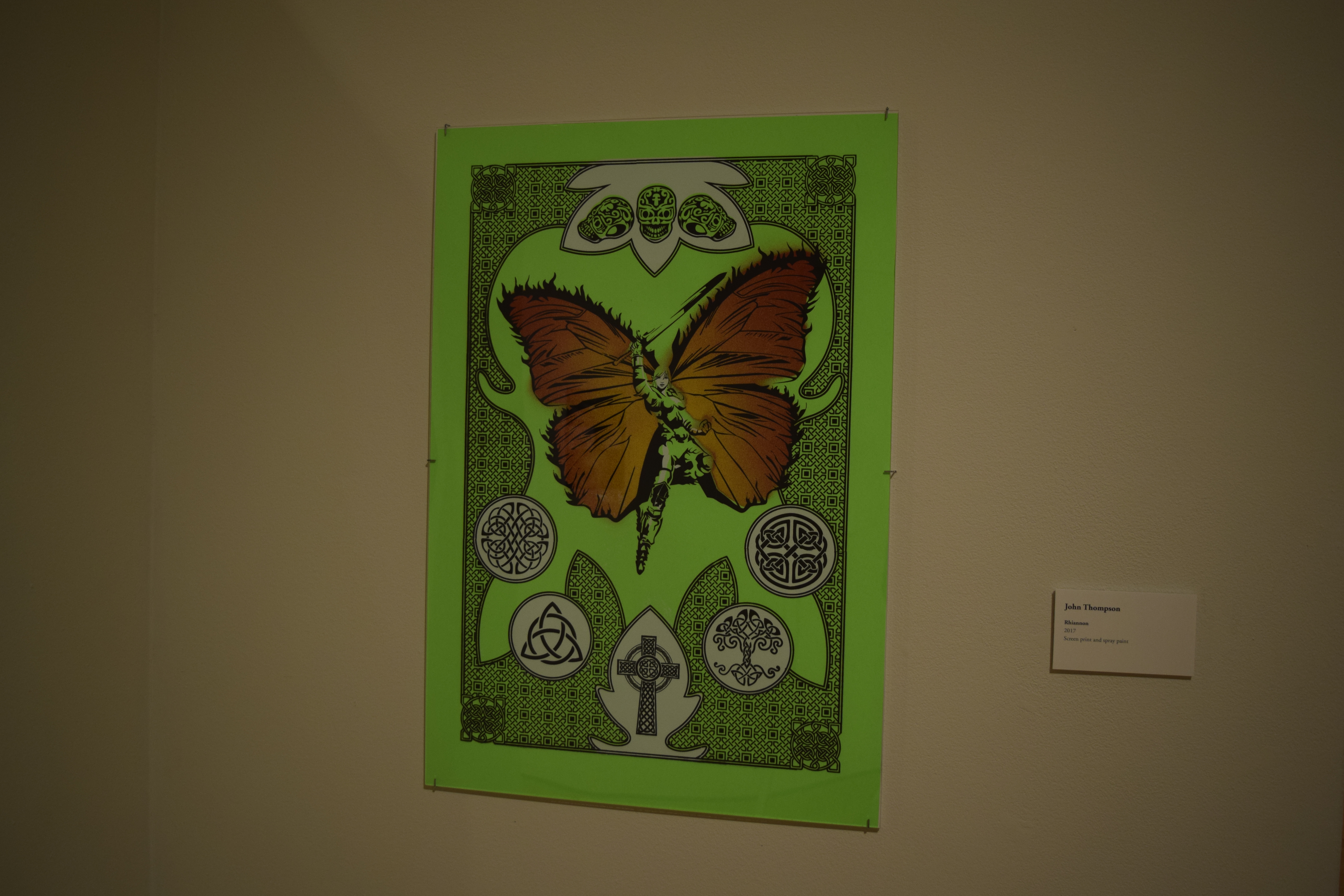 The Jerome J. Crowley Community Gallery at the South Bend Museum of Art is housing The Art of Valor from IU South Bend and the University of Notre Dame artists, the local veterans and the South Bend Vet Center. The artists participating were students and faculty of the universities, and their inspiration were military experiences shared by community veterans.
The exhibit began August 26 and will run through November 12, with its opening reception on September 1.
"The Art of Valor provides a unique first hand perspective into many aspects of the live of local veterans across generations," reads a plaque upon entrance of the exhibit. "We hope that visitors will extend this experience to reach out and learn how they can assist in the veteran community."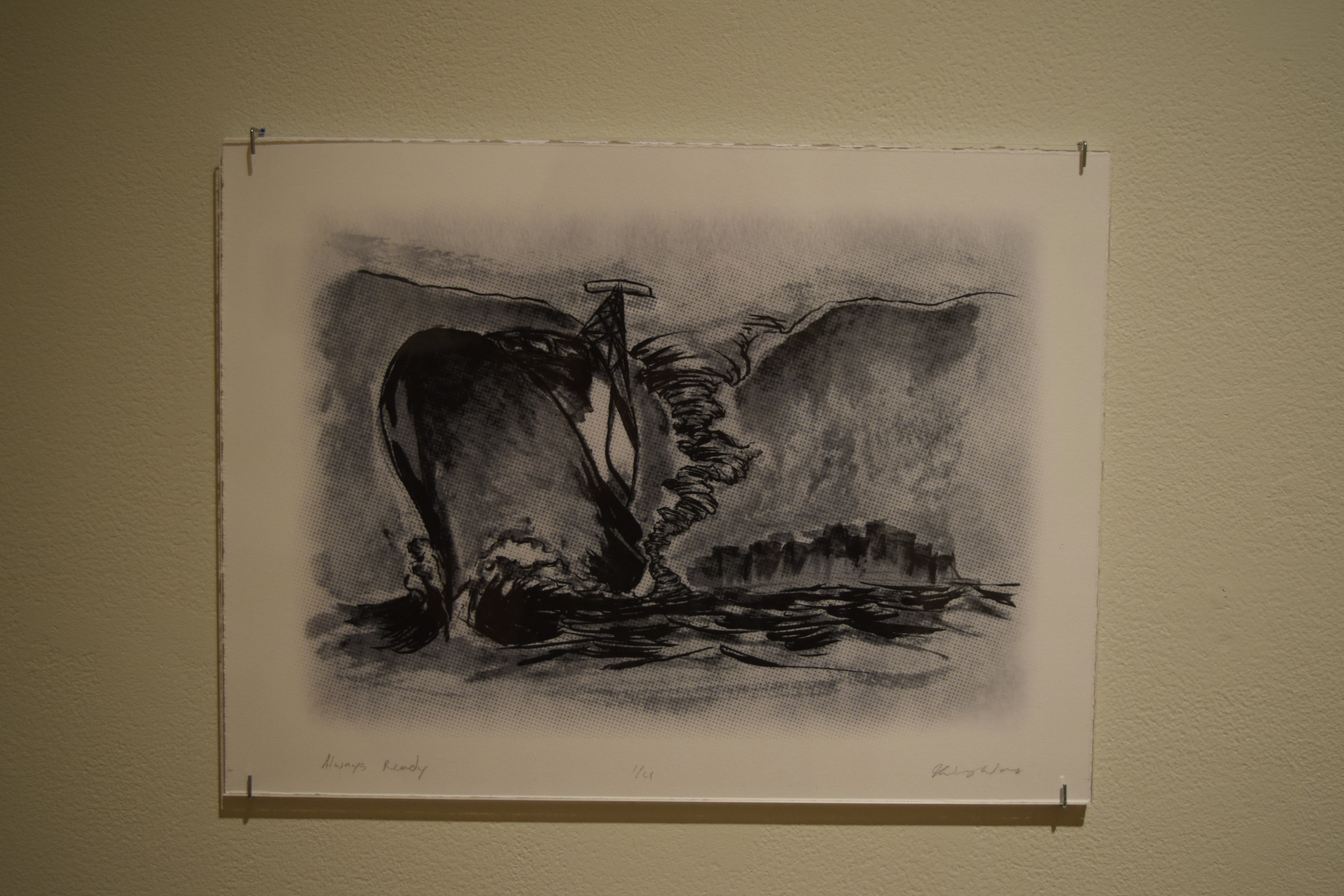 William Tourtillotte, lecturer in fine arts at IU South Bend, is mentioned with special thanks for his contributions and work with the exhibit.
Those that come from a military background themselves are able to offer a deeper perspective in their pieces. However, not all of the artists have finished their military careers.
"I would have titled it [her work] and written an artist statement, however, I was called to duty and sent to Schriever Air Force Base in Colorado for two weeks of training," Lauren Roberts, IU South Bend student, says of her piece. Her piece itself was finished before she had to prepare her family and home for her absence.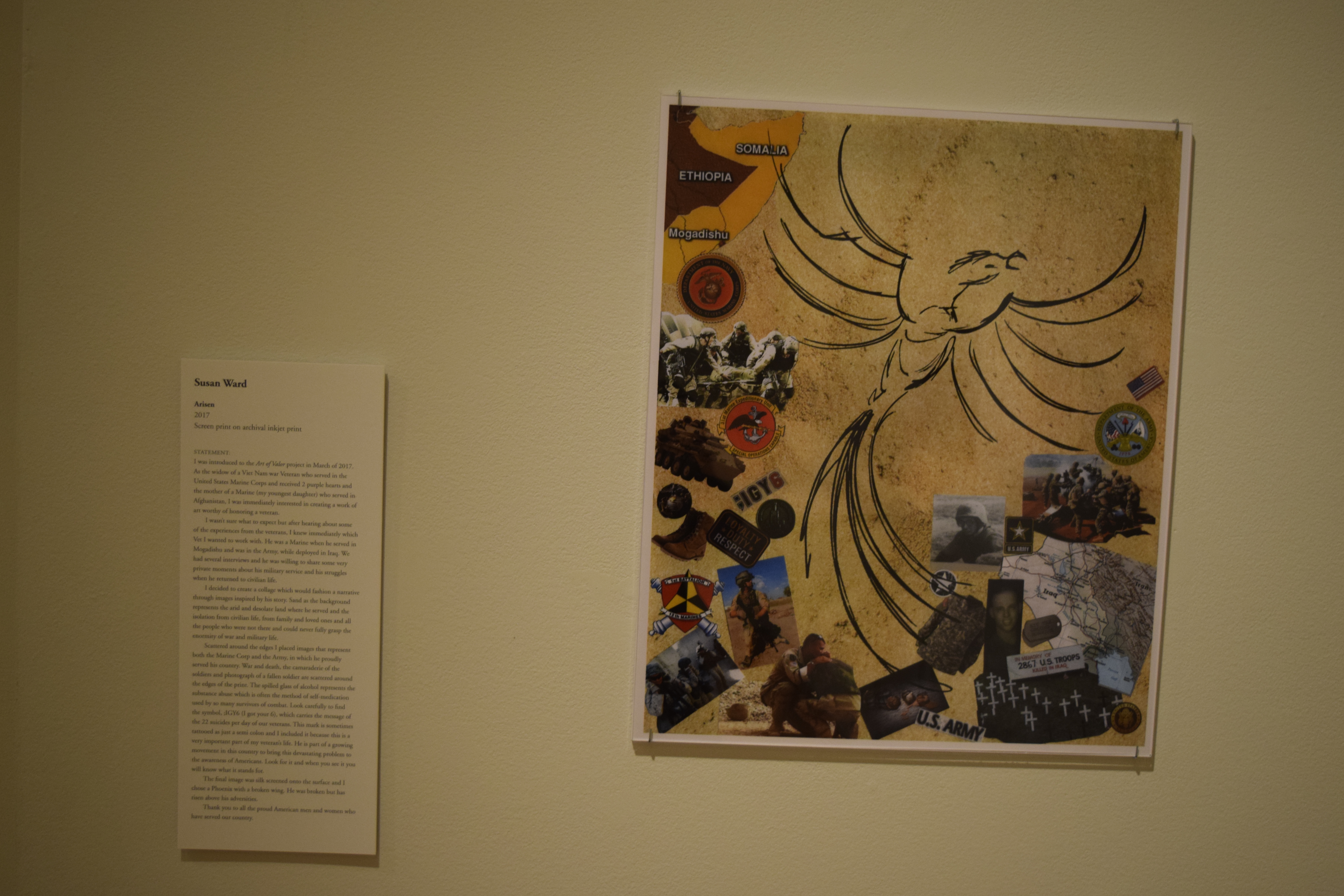 "I talked with an elderly lady who is an Air Force Veteran of four years. After hearing her story, I envisioned the tree resembling her family, which is behind her in the piece," Roberts explains. "She is looking towards the regret of leaving the Air Force, as she wishes that she had stayed and prolonged her career in the military."
Roberts' piece is two monotype prints that she painted on plastic sheets with water-based paints, and then transferred to paper from a printing press. The piece has many different symbols representing everything from her veteran's children, to a child that she gave up for adoption before enlisting, a military training Instructor yelling at her, her dog tags, as well as colors that have meaning to the veteran herself that were awarded to her with the Basic Training Honor Graduate Ribbon.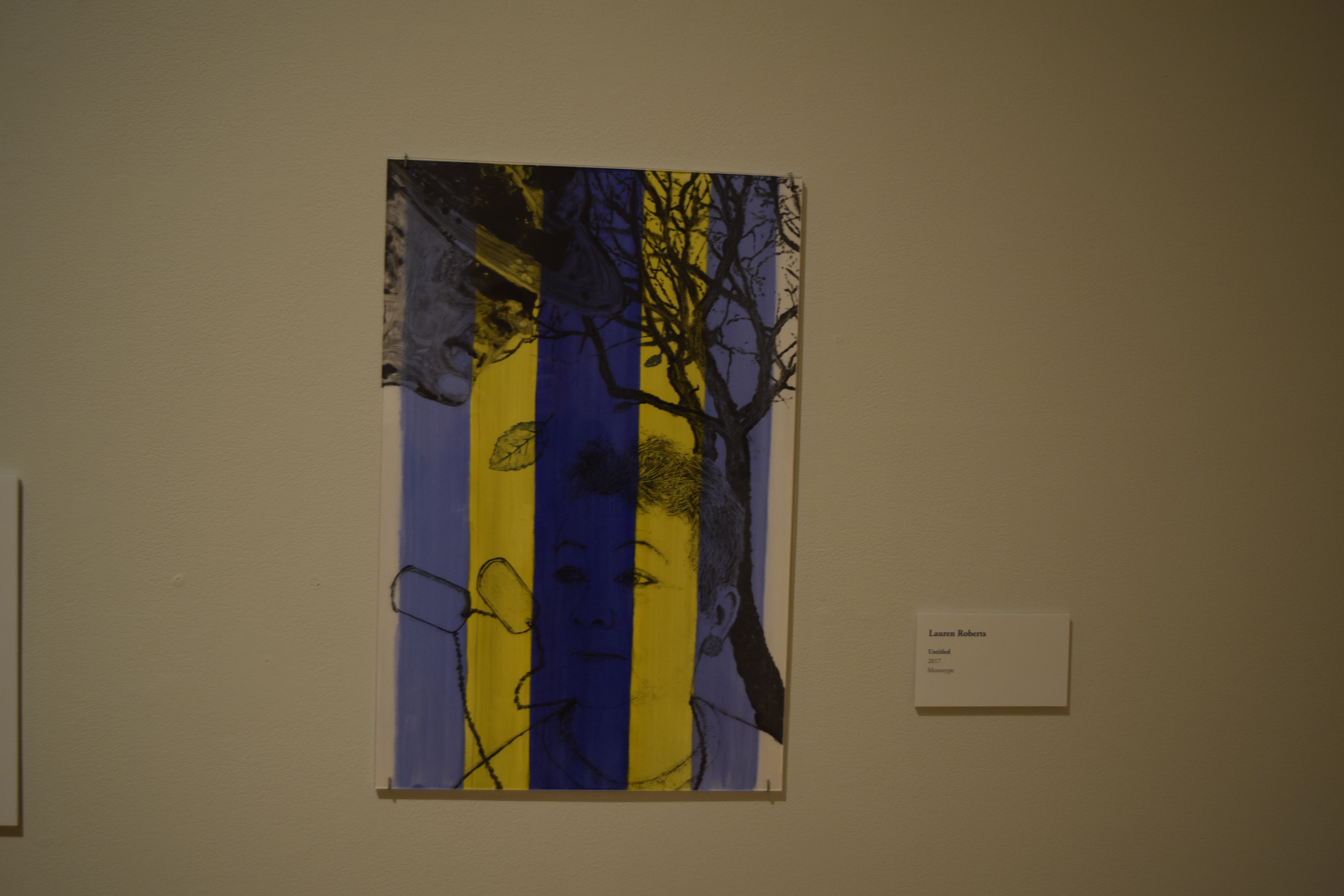 David Lewis submitted a piece called "Little Lew," after a nickname his friends gave him for his last name. His piece is a shadowbox of souvenirs from his service in the Marines.
"It was incredibly strange for me to make anything involving my service, as I don't like to talk about it much unless asked," Lewis says. "So, in a way, this artwork helps me open up a bit. For about three years I was assigned 3rd Marines Special Operations Battalion (CDMSOB)."
Lewis says the service wasn't as glamorous as he liked, but he was very excited to be able to take many special training courses.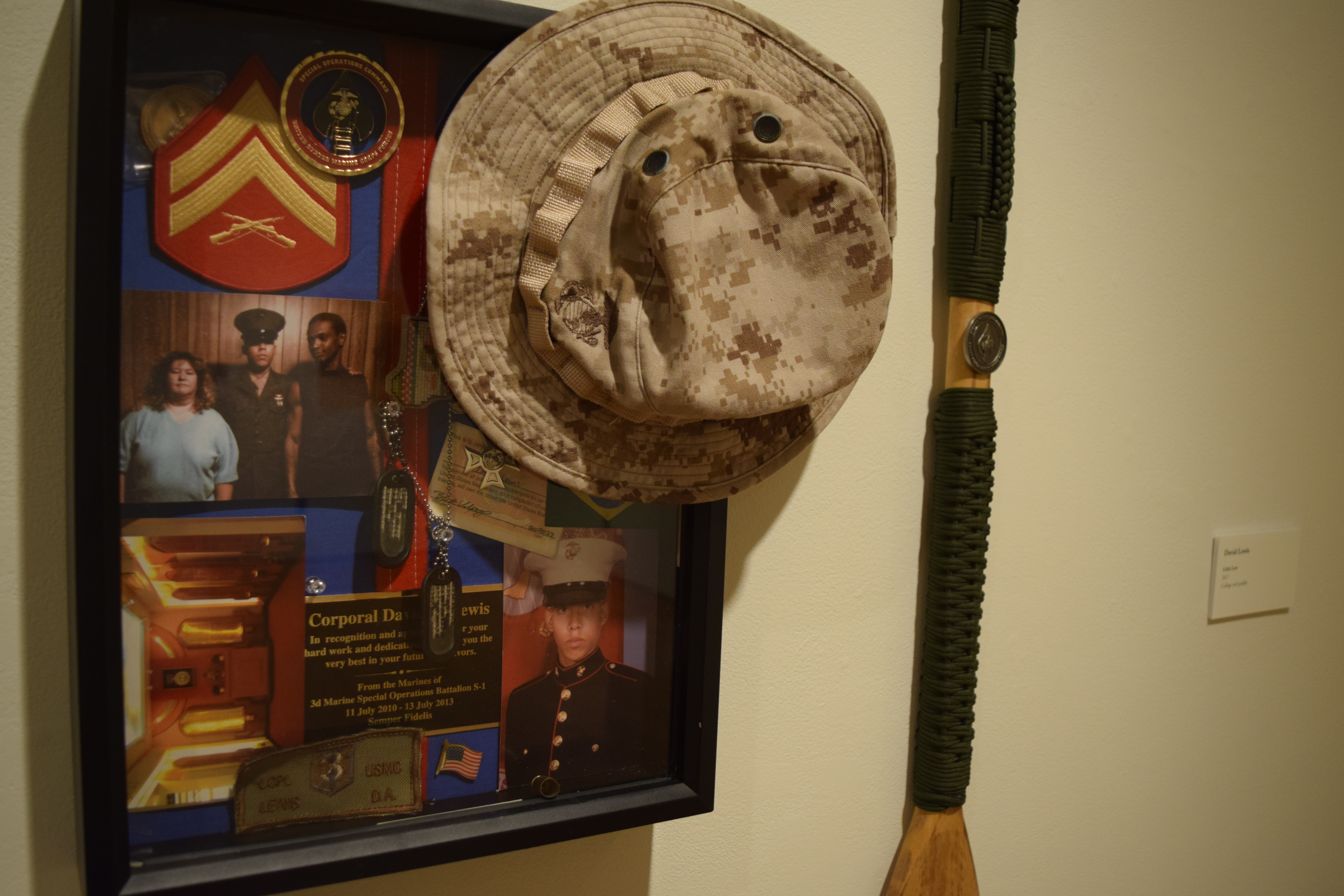 "Sadly, I never actually really got to go anywhere, but I enjoyed my time with my team and my fellow Marines. My friends would bring me back souvenirs, like the patch from Brazil, and the postcard from Vietnam," Lewis says. "I received many awards, and was up to be meritoriously promoted twice, but I just wanted to help others, do my job, and make something of myself. I owe just about everything to the Marines and my old unit.
"More importantly, my service helped me to support my mom, who was a single parent, struggling through a rough time, trying to raise my younger sister by herself. While she probably preferred me to take a less dangerous vocation, she was very proud of the person I had become."
His mother passed shortly after he finished his time with the Marines. She would regularly tell people "my baby is in the Marines" with pride. His work is a testament to his experience with the service.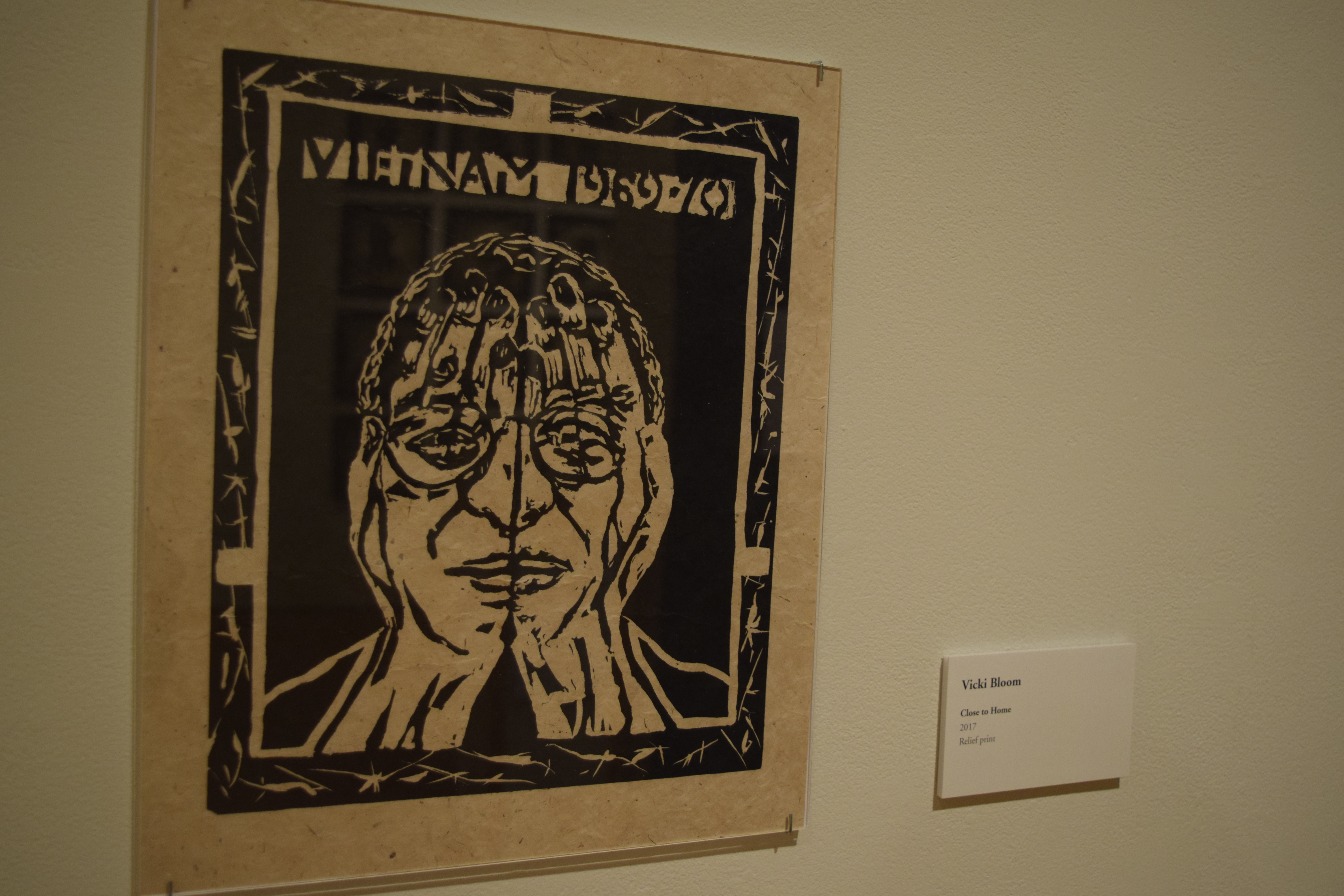 "At the end of the day, I'm profoundly glad to have served and help others, my family, and had the chance to rebuild my broken self," Lewis says.
Vicki Bloom, dean of library services and head of the Veterans Book Club on campus at IU South Bend, also had a linocut in the exhibit. Her piece was inspired by Dr. Alfred Guillaume, her previous supervisor and the former executive vice chancellor for academic affairs, a Vietnam vet.
"At one of our book meetings, Dr. Guillaume mentioned that he could not watch movies about the Vietnam War," Bloom explains. "Even though he is covering his face with his hands in the print, he still sees everything."
Her piece was entitled "Too Close to Home" to help communicate his experience.