by Kate Luce
Music, dance, and new media will all combine to create an experience that is sure to amaze during Ensemble Concept/21: Musica Speculativa. 
For the first time ever, the EC/21 concert series will feature a solitary composer: Ryan Olivier, assistant professor of music at IU South Bend. Olivier drew from a catalogue created over the span of almost two decades to supply EC/21 with the concert's music. 
As part of the immersive experience of this concert, patrons will be seated in chairs directly on the stage, which will limit the seating to around 40 for each of the two performances. 
EC/21 is a professional ensemble led by Jorge Muñiz, department chair and professor of music at IU South Bend. This ensemble is a high-quality group of performers that often provide a great opportunity for students and community members to engage in conversations about music with the composers, conductors, and musicians with question and answer sessions.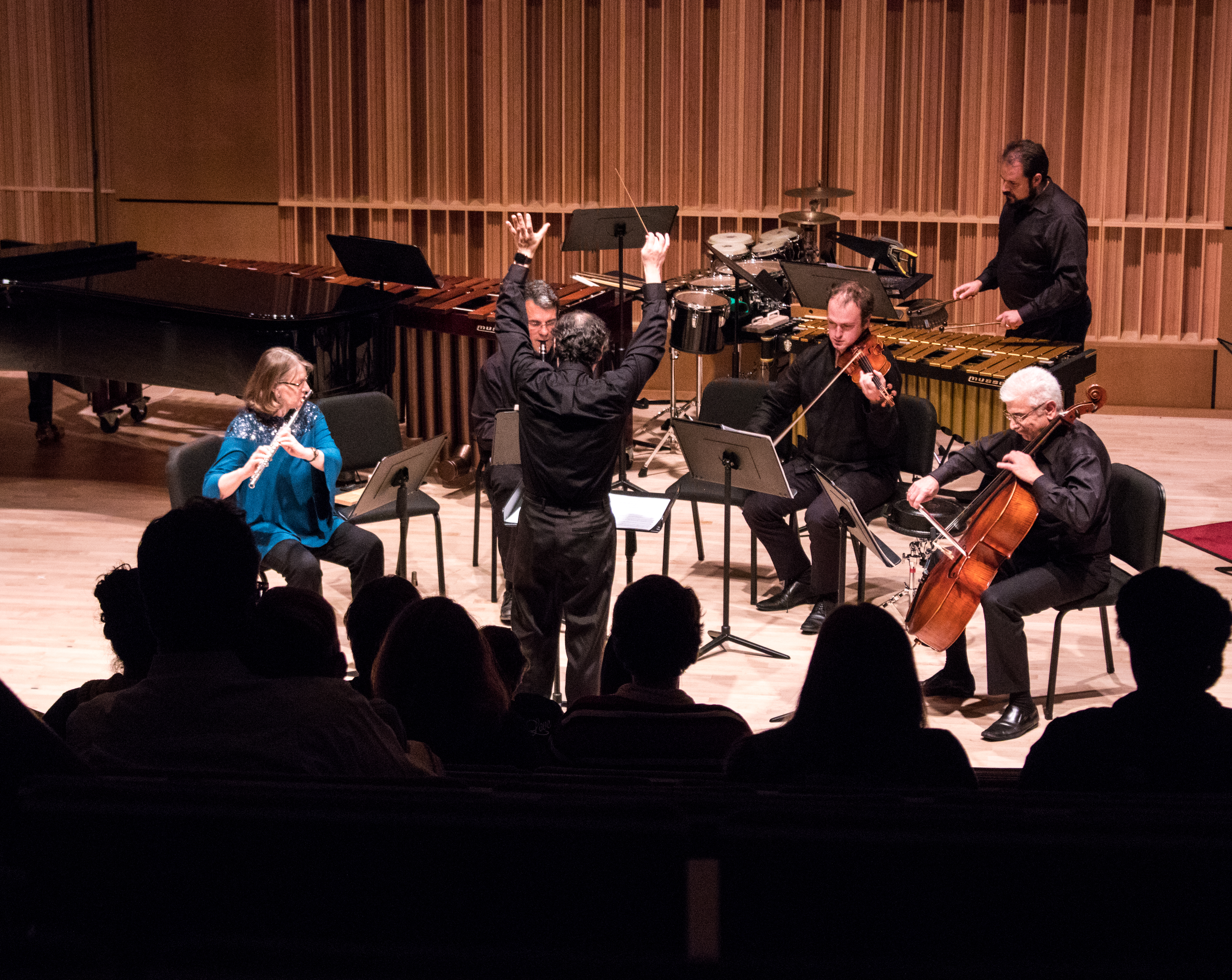 However, there will be a large amount of collaboration going into it. Notre Dame professor of conducting, Carmen-Helena Téllez, professor of conducting from Notre Dame, will be conducting this work. The night will feature a guest vocalist from New Orleans, a guest percussionist from Kalamazoo, Téllez, and adjunct lecturer in theatre and dance Colin Raybin. 
"Maestra Téllez has focused on innovative immersive new media concert experiences just like the one I had composed," Olivier says. "With EC/21 as the main performing force and Maestra Téllez at the helm, I sought the talents of Claire Shackleton, a mezzo I have known and admired for a long time to premiere the solo role. I knew after seeing Colin Raybin's solo performance at LangLab that she would be an incredible creative asset for the work and I am so fortunate she was interested in lending her talents to the piece." 
Musica Speculativa has been an important work for Olivier for years. The process of this work is finally coming together for two nights that are bound to be spectacular. 
"For me, this project [Musica Speculativa] has been my primary artistic focus for the last six years. I am so fortunate that Jorge Muñiz, director of EC/21, was interested in producing this large work of mine that is so unusual," Olivier explains. "It is a great treat that the community has such a daring and interested new music ensemble at IU South Bend." 
Olivier is not only a composer but a multimedia artist, and he created the music and technology of Musica Speculativa. The passion with contemporary art and music came to Olivier after a long journey of working on electronic music. 
"While studying and writing electronic music, I became interested in the disconnect between electronic music and the typical visual expectation of the traditional concert experience. I found that I could create movement I was looking for though new media. After writing a few of these works, I started to combine my concert works with new media to create new media, classical duets," Olivier says. 
EC/21 will be held in the Campus Auditorium in Northside on October 27 at 7 p.m. and October 28 at 4 p.m. Tickets for the musical and artistic collaboration are $5-$12, and can be purchased at the Box Office at 574.520.4203 or on the school's website under the Events and Community tab.