By Kate Luce
Halloween is a time for all things horror related to make their appearance. To kick the 2019-2020 theatre season off in that same spirit, the theatre and dance department is debuting Evil Dead: The Musical.
"This was the first time our production schedule was going to allow us to perform right on and near Halloween.  As a department, we had spoken for a while about choosing a show to celebrate this time of the year with our audiences. Evil Dead is the show we picked as it is a hilarious spoof of the beloved cult movies with rocking songs, dancing zombies, and a level of heightened camp," Justin Amellio, director and associate professor of theatre, says.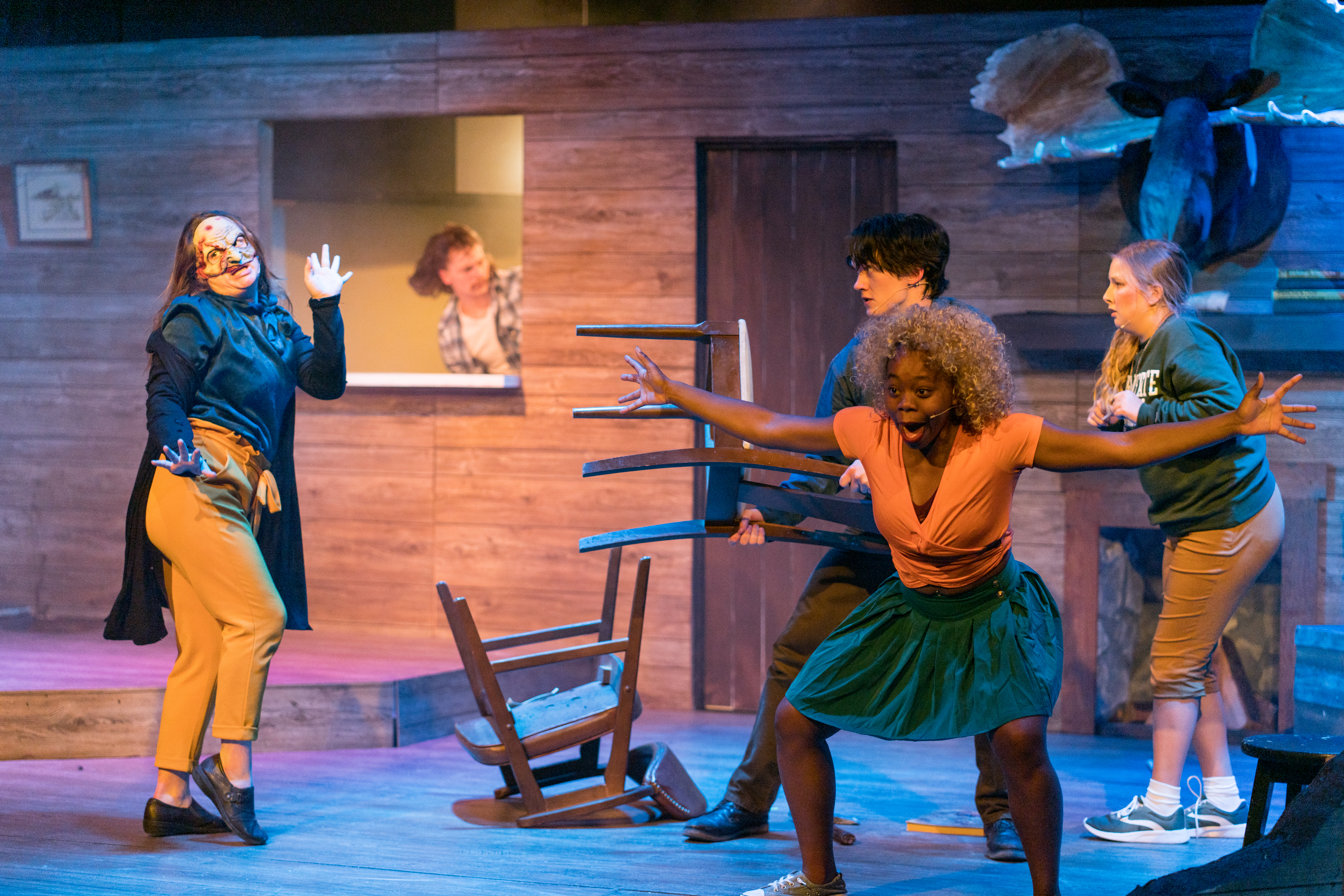 Evil Dead: The Musical is based on the Evil Dead film franchise that precedent it. The story begins with five college students that end up alone in the woods. They run into a force that turns them into demons. What happens next? Bad jokes, bloody messes, and demon slaying all insure. This musical combines elements of horror, comedy and a musical to create a performance that will leave the audience dying - of laughter.
One of the most infamous scenes of this production will be the use of blood cannons, which will splatter the first few rows of the audience. Have no worries, ponchos will be provided to the audience if interested in sitting in the splash zone.
This performance also carries an R-rating, due to the blood and adult themes of this musical. Audiences are advised not bring children to this performance.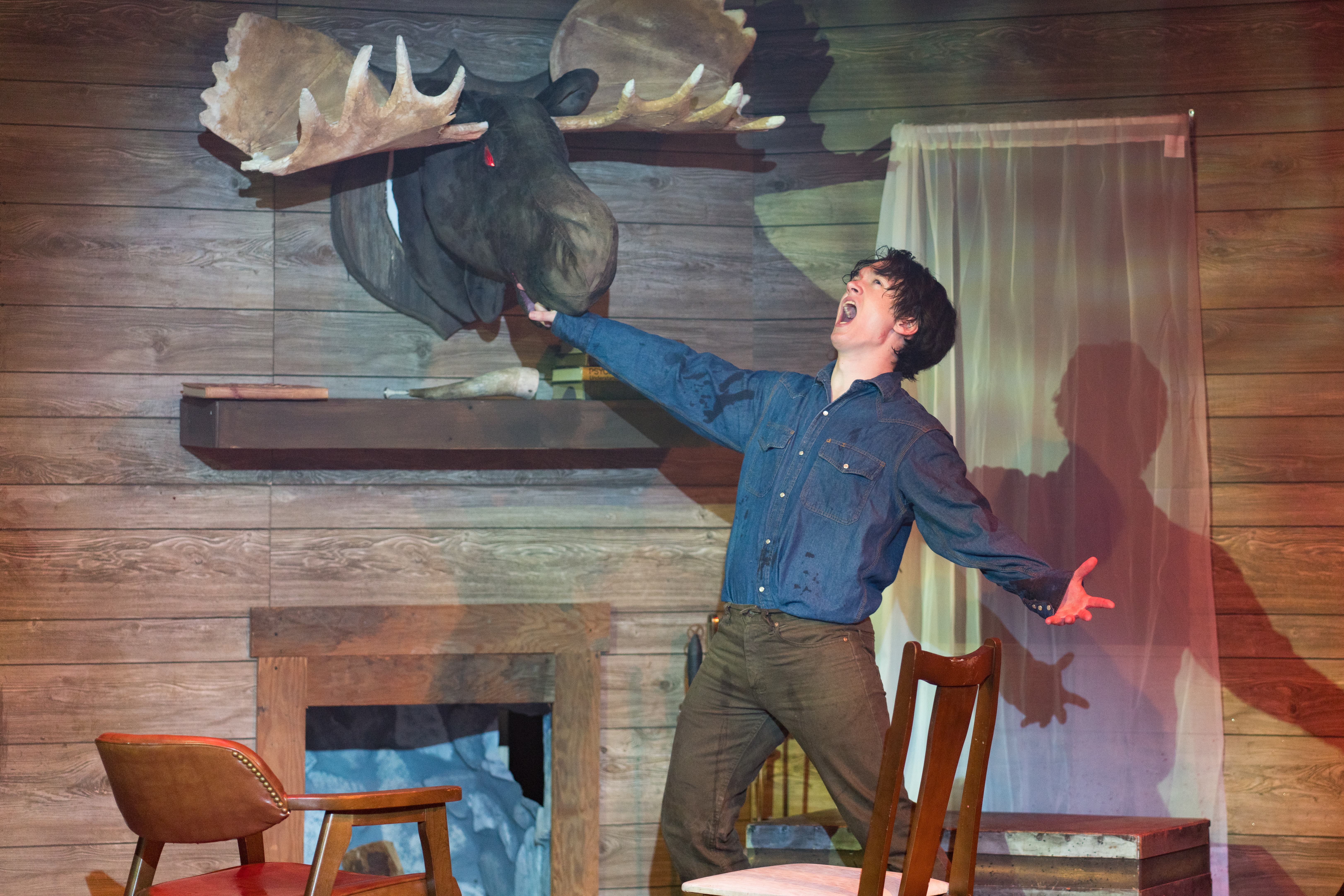 "We are looking forward to celebrating Halloween in this fun, raunchy, spoofy, bloody and musically hilarious way. It is definitely an adult-themed show, complete with a blood splatter zone in the front row for a more interactive audience experience. It is an up close and personal show, produced in an intimate setting. You will feel like you are in the woods with all the demons, and we can't think of a better way to celebrate Halloween this year," Amellio says.
As the show's debut edges closer, students performing in this production are continuing to rehearse and are looking forward to starting this school year off with something a little different than expected.
"So far, this is one of the most challenging shows I have ever done. This show is so technically heavy, and I'm so excited to tackle that in the weeks to come. Another reason that I'm really excited about the performance is the cast. I feel like a lot of our voices blend well within the music," Eddie Castle, who plays Scott, says. "The amount of combat, blood, and cursing that this show calls for is absolute insanity. Getting beat to smithereens is something that I have been wanted to happen to me in theatre for so long. I also have never gotten to play a character like Scott, and I am ecstatic about the challenge."
This performance will surely make the audience feel the spirit of Halloween. Evil Dead is lighthearted but still has elements of all things of a classic horror film.
"From those who love old horror movies to those who love theatre, this is going to be one for the books. This musical is going to be on to remember. It's one of the most fun shows I have been a part of," Taylor Jump, who plays Cheryl, says.
Evil Dead: The Musical will debut on Wednesday, Oct. 16 at 7:30 p.m. in the Upstage Theatre, and will end on Saturday, Nov. 2. There will also be a Halloween late-night performance at 9:00 p.m.
Tickets for Evil Dead: The Musical are currently on sale. IU South Bend students and high school students can attend this performance free with a student ID. Adult tickets cost $15, and senior tickets cost $13. Tickets can be purchased at the box office from 12 p.m. to 5 p.m. Monday-Friday or online at https://oss.ticketmaster.com/aps/southbend/EN/buy/browse.