By Kate Luce
In printmaking, repetition comes with the craft, but for Bill Tourtillotte, lecturer in fine arts, his lecture did not need to repeat how powerful the world of printmaking can be.
Tourtillotte hosted the first Fine Arts Lecture Series of the 2019-2020 academic year. After a few years of hiatus, the series is back with fine arts professors delving deep into their work and the historical and social influence of their media.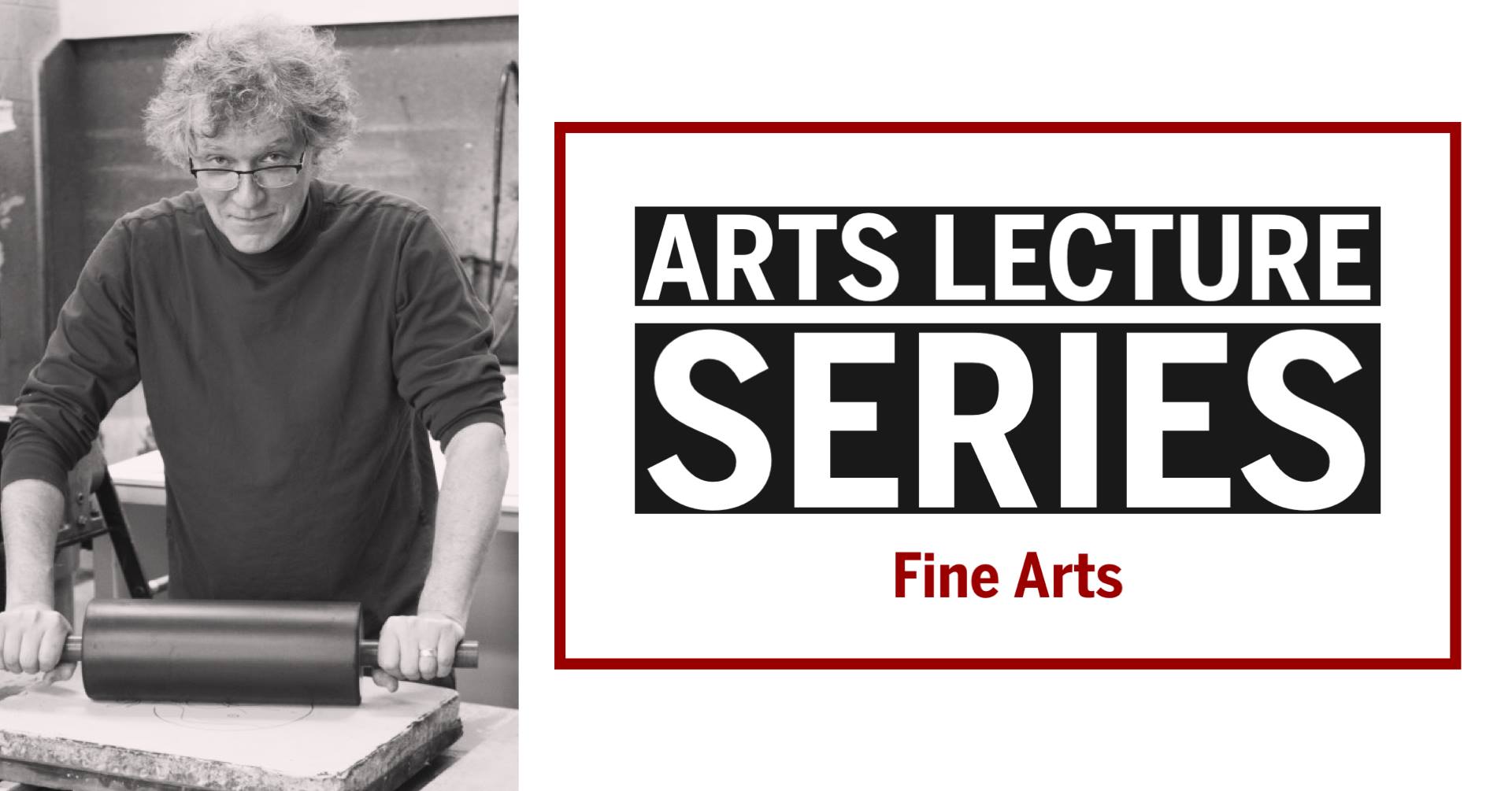 "It's a chance to share the work with everyone. Whether we are working together in the classroom or whether you are one of my colleagues, it's an opportunity to talk to a larger group of people. It's just a different way of teaching, I think," Tourtillotte says.
When the audience arrived, Tourtillotte presented them with books of images he has created throughout the years. In the back, a small piece of a risograph is tucked away.
To start the lecture off, Tourtillotte spoke broadly on printmaking, trying to make a definition of what printmaking is and what it is used for. The spread of ideas and information, human consciousness, communication that transcends cultures are what help support the validity of printmaking as an art form.
Tourtillotte then spoke about botanical and scientific lithographs. He explained how this helps to identify which plants to eat and use for medicine.  Other prints included how light works, the stars, planets, and dissected pathogens. During times where photography was limited, these illustrations helped provide a visual aid for complex theories and organisms.
Activism is directly tied into printmaking. From its origins, printmaking has spread ideas from the creator to the viewer. For good or for bad, it is up to the creator.
Tourtillotte illustrated the good and bad of printmaking with a personal story. One day he stumbled upon a piece of trash at the end of his driveway. What he found were a few pamphlets folded up in a baggy. A dirty rock marked the paper. The pamphlets contained Ku Klux Klan propaganda, urging people to join.
"I felt like I had to talk about racism. Just as I think that prints are the miracle workers of the world, the universe slaps me in the back of the head and tells me I'm a fool because it can also be used for as much bad as it can be good. It's a two-sided coin, yin yang as you will," Tourtillotte says, "The way I talked about combating racism [during the lecture] are the teachers I have had that have helped me understand the world. I think that education and literacy are the way you combat [racism]."
Pushing the lecture forward, he tied in his printmaking work with the role of speaking information and ideas. Over the course of the years, Tourtillotte's work has pushed more towards activism.
With issues facing human rights, speaking the truth, and opposition with war, Tourtillotte took the time to explain the three relief prints that were in the faculty show. The work depicts the three main rights we can all agree on: clean air, clean water, and a clean earth. The prints depict a hand moving in air, a hand cupping water, and a hand digging through dirt. The work is printed on muslin and sewed onto a bigger piece of fabric. It is almost like a flag or banner.
Lastly, Tourtillotte spoke about what the future of print media might hold. The risograph duplicator, although popular in the 1980s for a time, has made its way into the world or printmaking. This machine is much like a copy machine, but enables a user to make thousands of prints with low amounts of ink and minimal environmental impact. Tourtillotte bought one of these machines recently and has been using it in his work throughout the summer.
Printmaking is a powerful art form. With a deeply rooted history in radical ideas, this power is discovered within the creator.
If interested in checking out more of Tourtillotte's work, he currently is having a shared exhibition with his wife, Julie, a printmaking professor at St. Marie's University, at Andrew's University in Berrien Springs, Mich. until November 9.