by Kate Luce
Death is often viewed with pure negativity. It is hard to see a more positive side to the end. But Charlotte's Web shows children that a lot can be learned through the experience.
This year, the Michel's Little Hearts Theatre is presenting Charlotte's Web, the beloved childhood tale of an unexpected friendship, coping with loss, and growing as individual. Although there is sadness in this story, there are a lot of positives that are explored.
"I grew up reading Charlotte's Web, and I loved Wilbur. I knew from when we announced we were doing Charlotte's Web that I wanted to be Wilbur. I love how we follow as he grows both physically and mentally as the show progresses. His relationship with Charlotte is so pure. I believe the message of the play is to be friends with anyone, no matter if they look different from you," says Jack Saunders, who plays the beloved Wilbur.
In addition to learning about friendship, a new director will be learning the ropes.
What makes this production different from past years is the director. Each year, the faculty has suggested that a student take charge. Dayandra Leão, senior theatre student, takes the helm. Her past experience with directing Stage for Change and assistant directing for her high school. She is using those plays to help her with this important performance.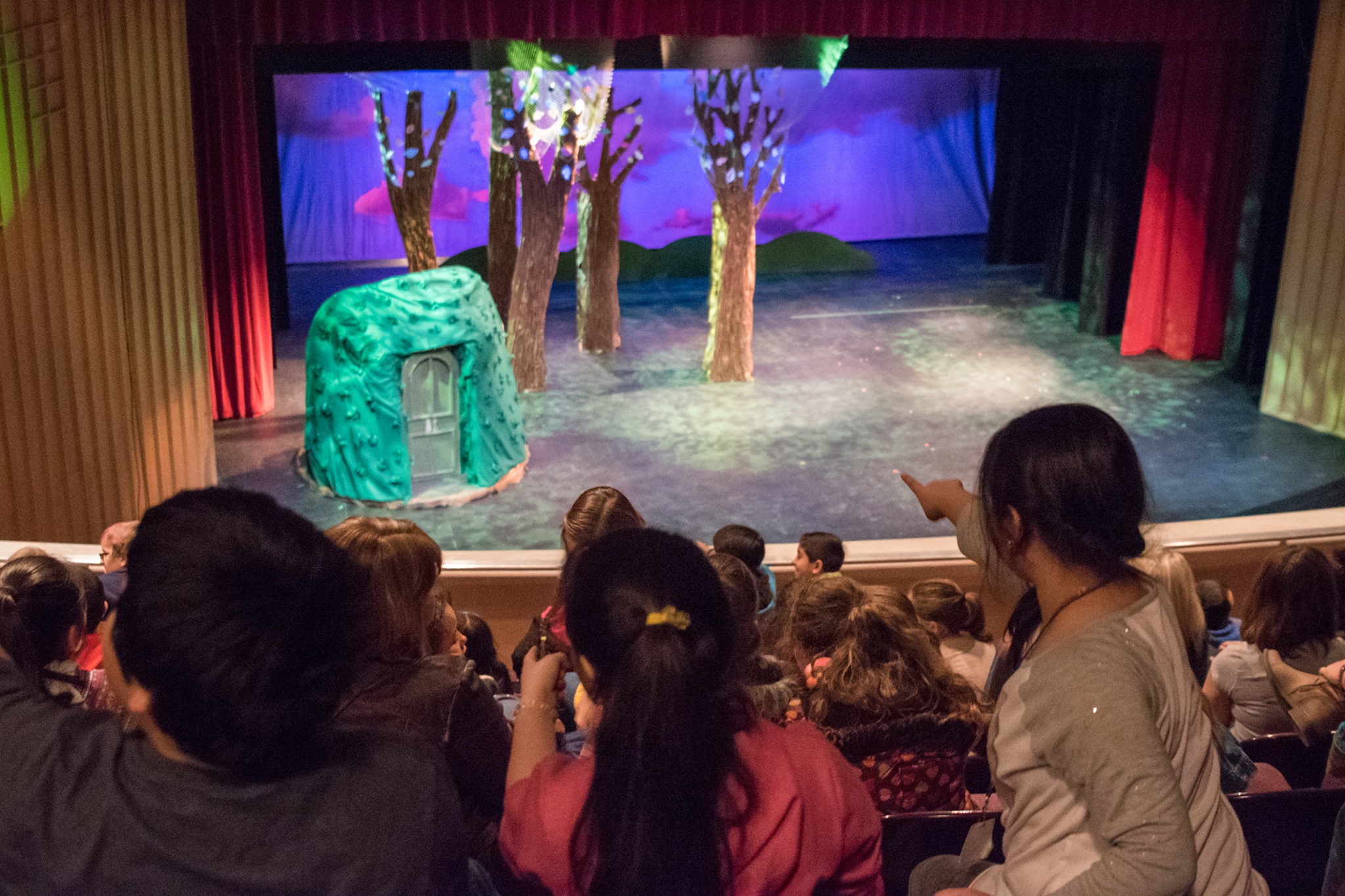 "You have to be a cheerleader. You have to make sure that everyone on your cast is feeling good, positive and that they have a good, creative, artistic environment. They can feel free to make weird choices and make a fool of themselves and have fun. It was definitely something I adapted to because you never want to shut someone down," Leão says.
"Whereas when you act, you still have to be positive, but you don't have to have all of the answers. You don't have to spearhead everyone because the director is there, and you really have to focus on yourself and your craft. It is always an ensemble art. My directing style has always been ensemble style and making sure everyone feels appreciated," Leão adds. That makes a happy company.  
More than 4,000 area elementary and daycare students are making the trip to see Charlotte's Web. The attendance numbers are typical for the Michele's Little Hearts Theatre. Area teachers decided last year that Charlotte would be the play. 
The production is free for elementary students that qualify for free and reduced meals, and this helps provide access for students who may have never experienced live theatre. 
In total, Charlotte's Web will be performed for 14 times for different schools. It is a 55-minute production without any breaks, so a lot of energy is required for a successful performance. However, the young audience always give the actors the attention to make this performance fulfilling. 
"Every time we do one of these, we perform to 4,000 kids. Some of them are like 'this is incredible. This is what I want to do.' So many people that I know that are in the theatrical profession is because of things they saw when they were children. It's really magic when you are that young. They are the best audience. They are just so unrestricted. They interact and talk back and feed you so much energy. Afterwards, they are just so excited to meet you," Leão says. 
The goal of every artist is to spark change. One of the changes Michele's Little Hearts Theatre sets out to do is to inspire children to get in touch with their artistic side. It's a vital time where imagination and exploration of the unknown can be so rewarding for children. The theatre setting allows these children to get in touch with this imagination and really connect with what the actors are performing. For some, this might be the only time they would be able to attend a play. 
Many of the actors are excited to be a part of Charlotte's Web. The play is unique with its storyline and handling of death. It teaches children much more than what a classroom might have to offer for a situation like this. 
"Kids are smart, and I never wanted to steer away from Charlotte's death or the whole talk of Wilbur being killed. It's out there plain and open. I think a lot of kids appreciate that. Kids whenever something bad happens in their lives, a lot of people may try to tone it down. They're smart, and I want to honor their intelligence, and show them the story, but frame it in a way where they see it in a positive light," Leão says. 
IU South Bend will be hosting a public performance of Charlotte's Web on Saturday, Feb. 19 at 11 a.m. and 1:30 p.m. in the campus auditorium. Tickets can be purchased at the Box Office.