by Kate Luce
Whether it is old versus new; traditional versus digital, printmaking creates a unique community of artist working together. Old print technology may seem dead, but for Bill Tourtillotte, old things have a place and importance in the print shop. 
In the fall, Tourtillotte received a new press for the shop. Technically, it is not new. It was built in 1921. Its history tells a wonderful story.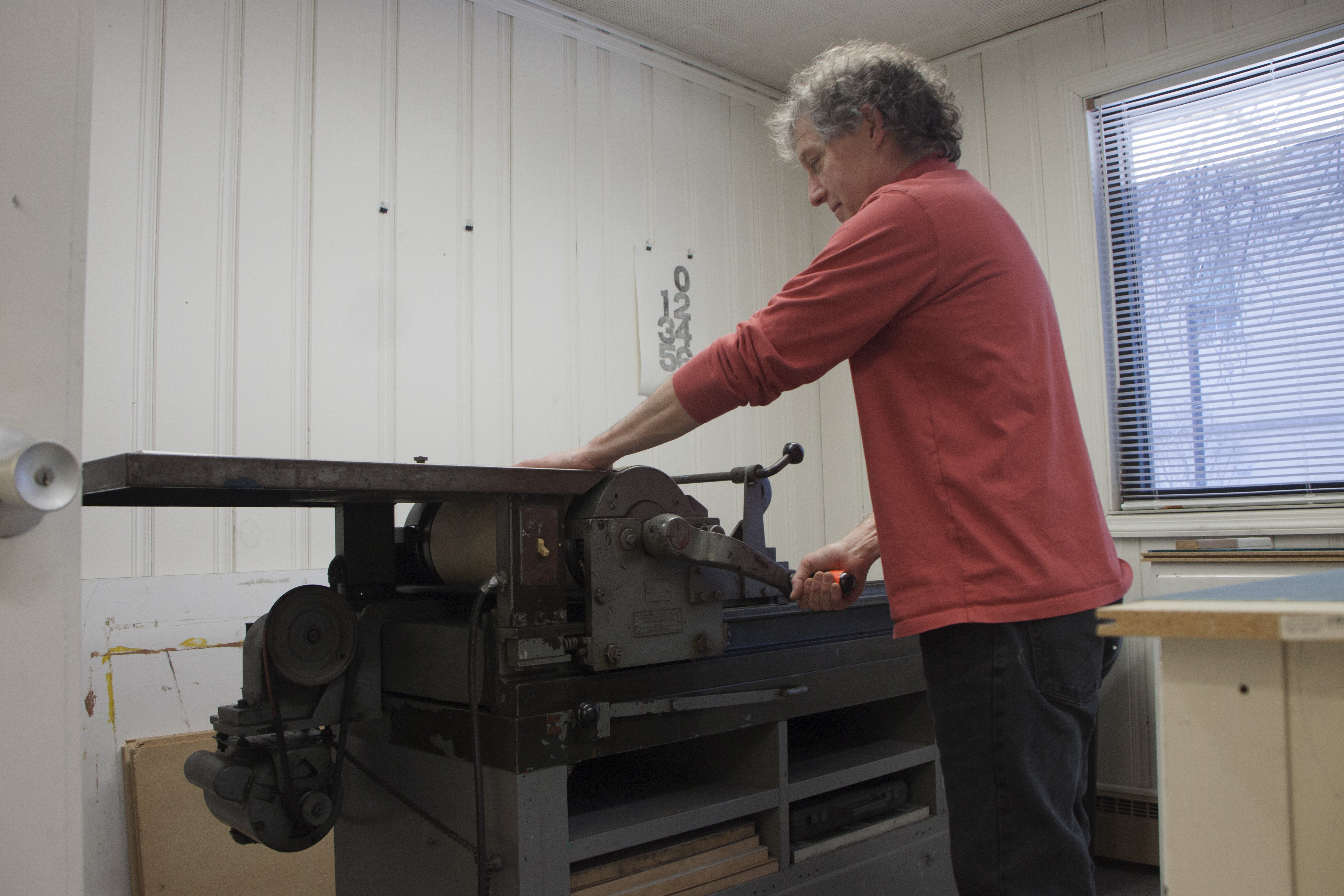 The press is called the C and P Platen Press, which was used for text in printed material. The C and P Platen Press looks like a clamshell. A printer has the type ready for placement in one of the clamps. The rollers and type are inked. The inked type and paper come together to produce a print. 
It is much simpler of a press once in action. Although Tourtillotte has to tweak one of the motors on it, the crank still works to produce prints. 
Finding this press was a journey, nonetheless. Barbara Mociulski, senior lecturer in fine arts, first notified Tourtillotte that a press was in the South Bend Tribune's classified section.  
"When I went to look for [the press], it was after business hours, so I did a reverse search on the phone to try to figure out where the business was. It came up in Kalamazoo, I think. Maybe, Battle Creek, Mich. I was not hitting on any business. So then, I went to Ebay and typed in 'letterpress' and this guy in Michigan, in Cassopolis, was selling this letter press, type, and composing table." 
The person was not Mociulski's contact. "But it seemed like maybe it was meant to be," Tourtillotte says.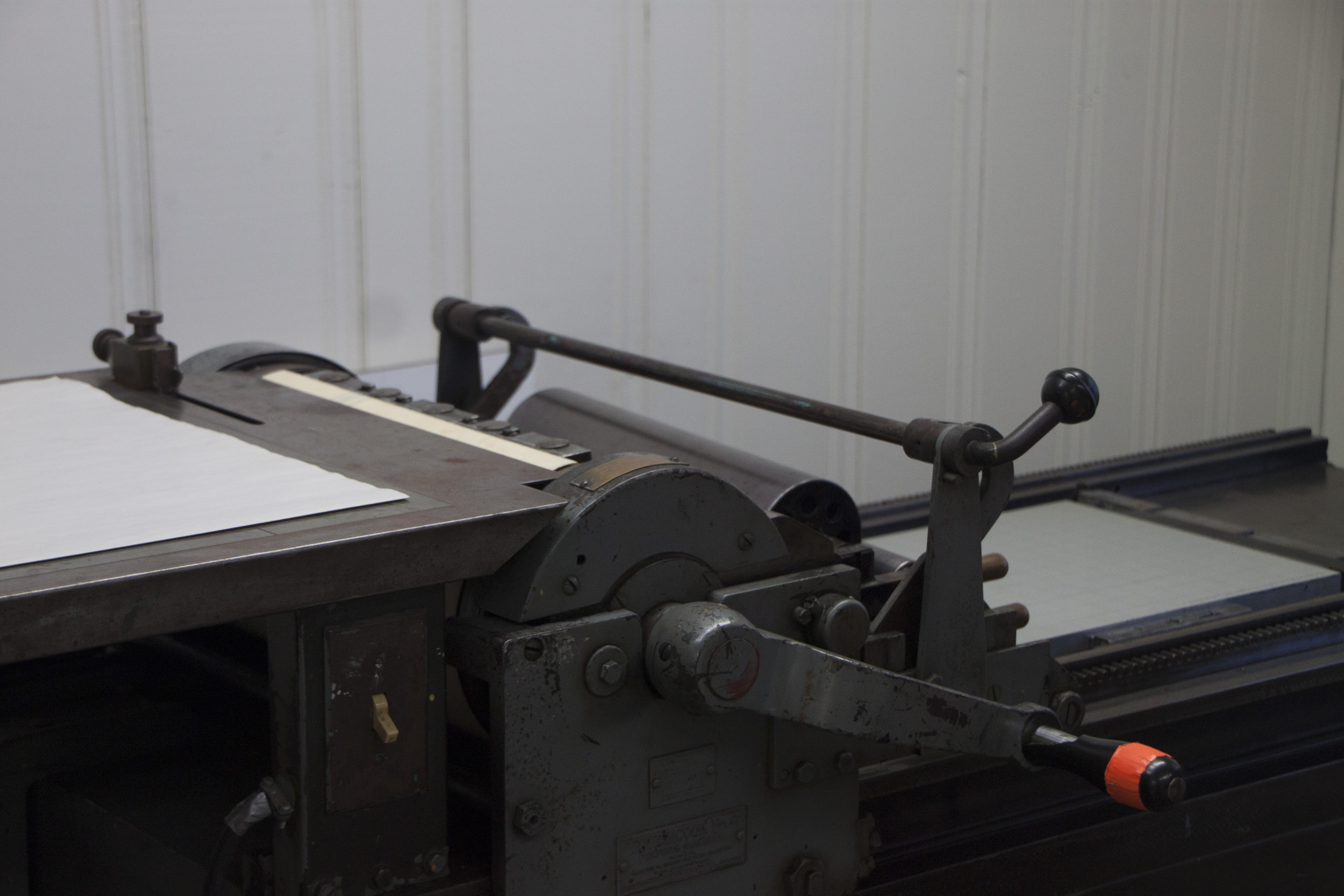 The press was purchased, and luckily, the owner had the equipment to haul the press 25 miles to IU South Bend. Now, the press, a large drawer full of type and a composing table sit in a room waiting to be used. 
"[The owner] was really into it coming into a school. It took a day's work, but it's here. I don't think it's going anywhere," Tourtillotte says. 
A former owner used it for their church's bulletin. He would align text up and proof on Friday, print on Saturday, and have it ready for Sunday. Despite that there were easier ways to make the bulletin, the labor of love of printing kept the printer alive.  
The print shop also owns the next generation of presses after the C and P Planten Press. It's called a Vandercook Press and looks a lot different than the clamshell shape of the Planten Press. 
"I think Allen Larkin, who used to teach here, brought it in. It's a flatbed cylinder press. Vandercook Presses are made in Chicago and each had a serial number. This is 9793, and if you go the Vandercook archive this was made in 1943. It's a steel bed with a track that carries both an inking roller and then a cylinder down across type," Tourtillotte says. 
This press was meant to be a proofing press before it went on a large-scale press. It should be noted that the letters must be placed in both of these presses backwards and upside down to print correctly. It is definitely a method that requires practice. 
"Johannes Gutenberg invented the [printing process]. He was a metalsmith, and he used his metalsmith knowledge to replicate recognizable metal letters so that you could print a word or a sentence or a paragraph or eventually a full page," Tourtillotte says. 
It can be used for contemporary means. Tourtillotte used the Vandercook press to make prints for the exchange portfolio each printmaking class does at the end of every semester.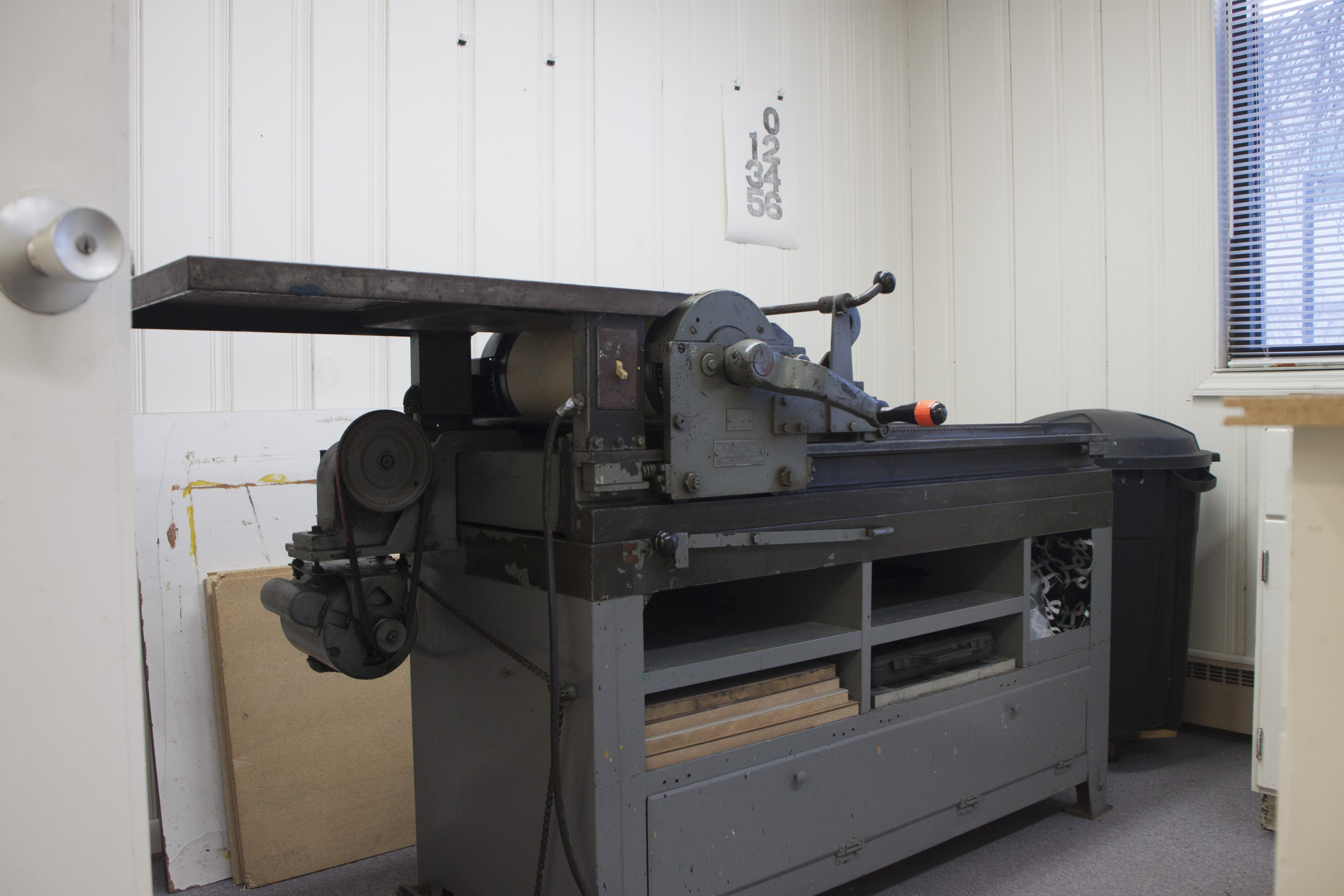 "Where silkscreen, you can make 20 prints, this one you can make 200 to 1,000 prints with this press," Tourtillotte says. 
The print he used in the exchange portfolio further carried on in his work for Carlotta Banta Artistic Achievement Award, which he received from the South Bend Museum of Art at the Artlights event this past October. Every year, the South Bend Museum of Art presents an award to a community artist who has made a difference. For Artlights, he created books with the image he used for the exchange portfolio. 
"I made books to go with [the speech]. I made 250 books. I made a book for everybody who came to the event, and I used the book as a prop to talk. It was a crutch," he laughed. 
His community reach goes well beyond his impact at IU South Bend. Tourtillotte created several murals around South Bend. He worked with a local school to get them created, and they are still standing today. He has also worked with local non-for-profits, including the Center for the Homeless, where he taught art to the guests. 
He did not get his start teaching at IU South Bend. He worked for the South Bend Museum of Art as chief curator program director. Tourtillotte spent 10 years in charge of creating educational programs and curating the museum. 
"I went out on my own, creating and curating my own exhibitions. I had enough contacts, but then the recession hit in 2008 and 2009. A lot of that money just went away. So, I started teaching again. I started farming and working in the studio. I started with adjunct classes and built from that. I was full-time at Holy Cross College for four years. I was head of the human there," Tourtillotte said, "And then this job opened. You know, I was trained as a printmaker a while ago. It was nice to finally come back."
He has been here at IU South Bend ever since. Much like the presses, Tourtillotte is not going anywhere or anytime soon.