By Grace Logan
For Juan-Carlos Alarcon, senior in Music Education at IU South Bend, education is a pathway to opportunity. Alarcon was the keynote speaker this year at the Indiana Undocumented Youth Alliance (IUYA) annual scholarship banquet held in October, where the organization recognizes the recipients of scholarships and raises funds for future scholarships.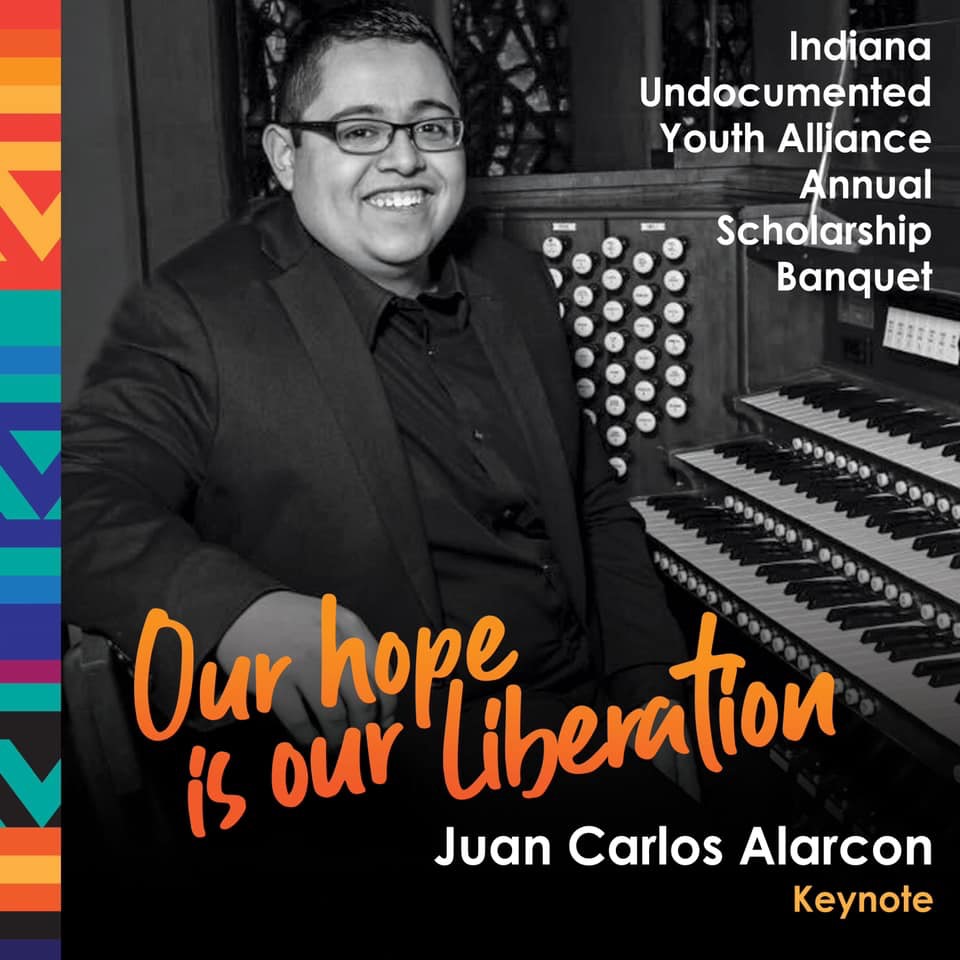 Alarcon, along with Salvador Perez Lopez, were nominated, and won three Grammy awards last year for their involvement with the album, American Dreamers: Voices of Hope, Music of Freedom. Through his involvement on the Grammy award winning album, he was selected to be the keynote speaker for the IUYA in October 2019, with the banquet theme of, "Our Hope is our Liberation." In his speech, he spoke about his experience, struggles, and motivation throughout his education as an undocumented immigrant.  
Established in 2011, the IUYA is a youth-led organization that seeks to empower young immigrants to achieve higher education, as well as improving the quality of life and influencing public policy that directly affects immigrants. The IUYA believes that individuals can build power by organizing at the local and statewide levels, all while giving resources to help support and care for undocumented students and their families. They also thrive on creating meaningful alliances through other advocacy organizations.  
"The main reason I accepted the invitation to speak was to inspire others, who like me, are trying to achieve an education. IUYA provides scholarships, and other financial help to undocumented students in order for them to continue their education because they cannot receive federal help," Alarcon says. 
He spoke about how education was the key to his liberation. He spoke about his experience coming to the United States at just eight years old and his struggles learning English in elementary school. In middle school, Alarcon began to flourish when the language issues started to clear up.   
While in middle school, after filling out the 21st century scholarship packet, Alarcon learned that things would be different for him, and the future would be more difficult due to his immigration status. In high school, he faced challenges of not being able to get a driver's license, while his friends were able to do so with ease. High school came with its hardships, but during this time, Alarcon found his passion in music.  
As senior year approached, Alarcon thought about returning to his country for higher education, but his high school counselor said that his immigration status did not matter. In the fall of 2010, he applied to the Music Education program at IU South Bend in the hopes of fulfilling his dream of becoming a music teacher. However, his education was cut short due to a new law, HB1402 that prohibited undocumented students from receiving resident tuition.  
"I could not afford to pay out of state tuition, so I decided to take a break from school. I lost the hope of becoming a teacher and the hope of bringing music to others," Alarcon says in his speech.  
After this law was passed, there was not much Alarcon could do, so he went on to serve a two-year mission for the Church of Jesus Christ of Latter-day Saints. During these two years, he gained back his hope for himself, his future, and his education.  
In 2012, President Barack Obama introduced Deferred Action for Childhood Arrivals (DACA), allowing Alarcon to come back to IU South Bend to receive his degree in Music Education. Now in his senior year, much has changed for Alarcon, and he wants to share his story. 
"I spoke on the experiences I had because it is important for others to know that they are not the only ones struggling. We are in the search for the American dream together. It is important that we work together and find common ground. That is how we move forward," Alarcon says. 
The IUYA prides itself on reaching out to immigrant youth, with the hopes of making a positive impact on their lives. This organization provides a step toward improving the future for undocumented youth in countless ways and a step toward improving the future of our country.   
"This organization is important not only to me, but it is also important for the community because it allows students who cannot receive financial help from the government to apply and receive monetary help to further their education. Education is the best weapon we have to fight racism, ignorance, and all the misconceptions that surround DACA students and immigrants. Any organization that helps educate the community which they serve, I support," Alarcon says.