by Christina Clark
Among Kate Luce's earliest memories are recollections of her drawing, starting around the time she was just three years old.  
"I've always been very creative," she says, even explaining how her parents were in shock at times at how rapidly she would go through her supply of paper and crayons. Though going through her art supplies rather quickly. They've been supportive, which that's awesome." 
Luce is now using her life-long creative outlet as a way forward in her chosen career fields. Luce is pursuing a double major including painting and drawing and journalism, with a minor in printmaking. 
While in high school, at LaPorte High School, Luce tried to make sure she was taking a creative or arts course as often as possible, but was also attracted to AP classes as well.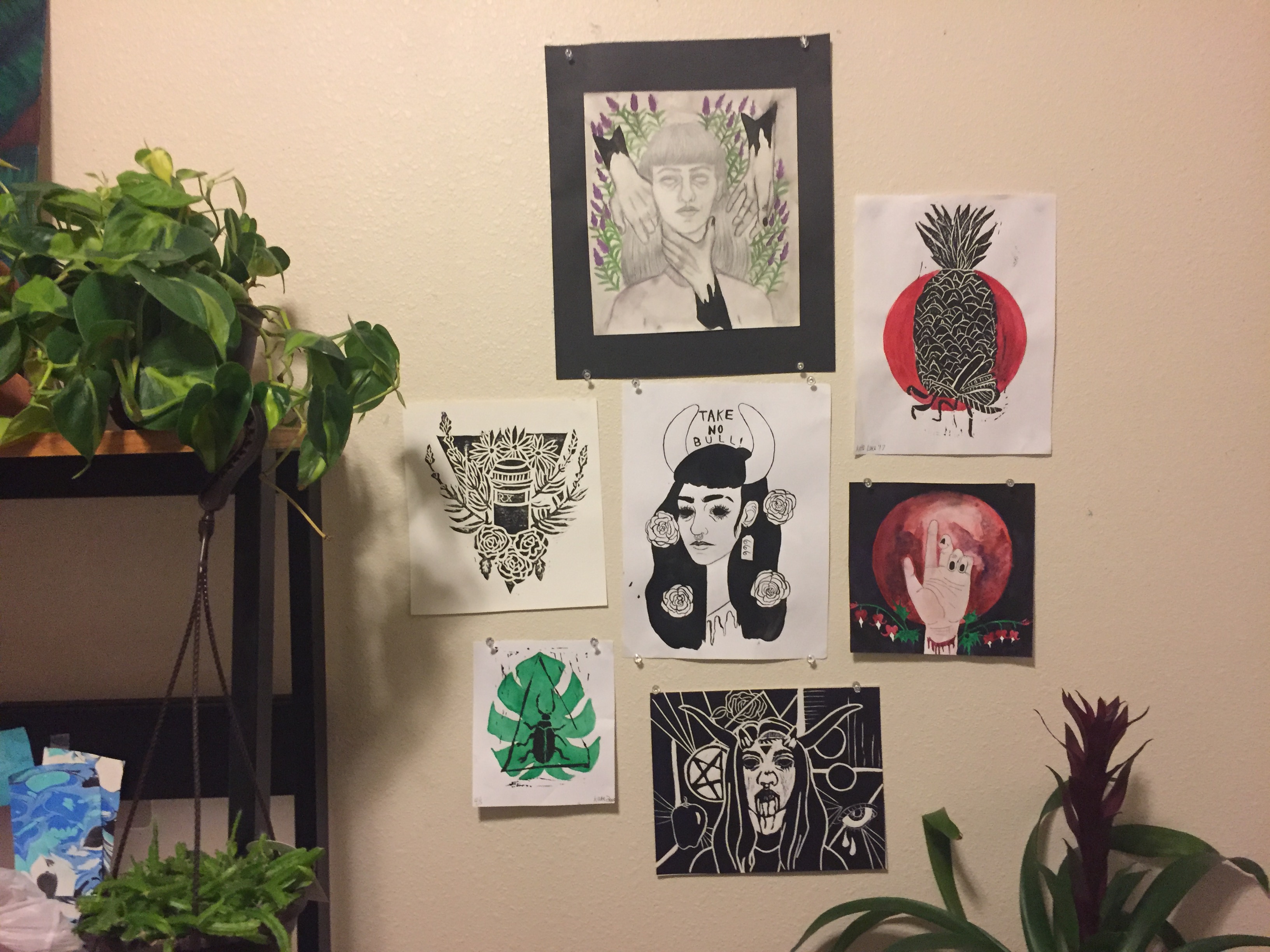 "One year I didn't take any [arts classes], and I was suffering creatively and mentally. I tried really hard throughout my high school to take as many [art classes] as I could," she says.  
When Luce sets her mind to something, she often follows through with it in a big way. In her first year at IU South Bend, she has joined The Preface staff as a writer, and participated in as many art exhibitions as she could. On campus, she has been a part of the LOOK! Scholarship Art Sale and participated in the Student/Alumni Exhibition in the Art Gallery, which runs until March 24. She participated in a printmaking exhibition in the gallery in the Administration Building as well. She has had her work displayed in the Lubeznik Center for the Arts in Michigan City as well.  
"I had thirty to fourty pieces, because I went crazy," Luce says of the LOOK! Scholarship Art Sale, expressing her love for creating and experimenting with her artwork.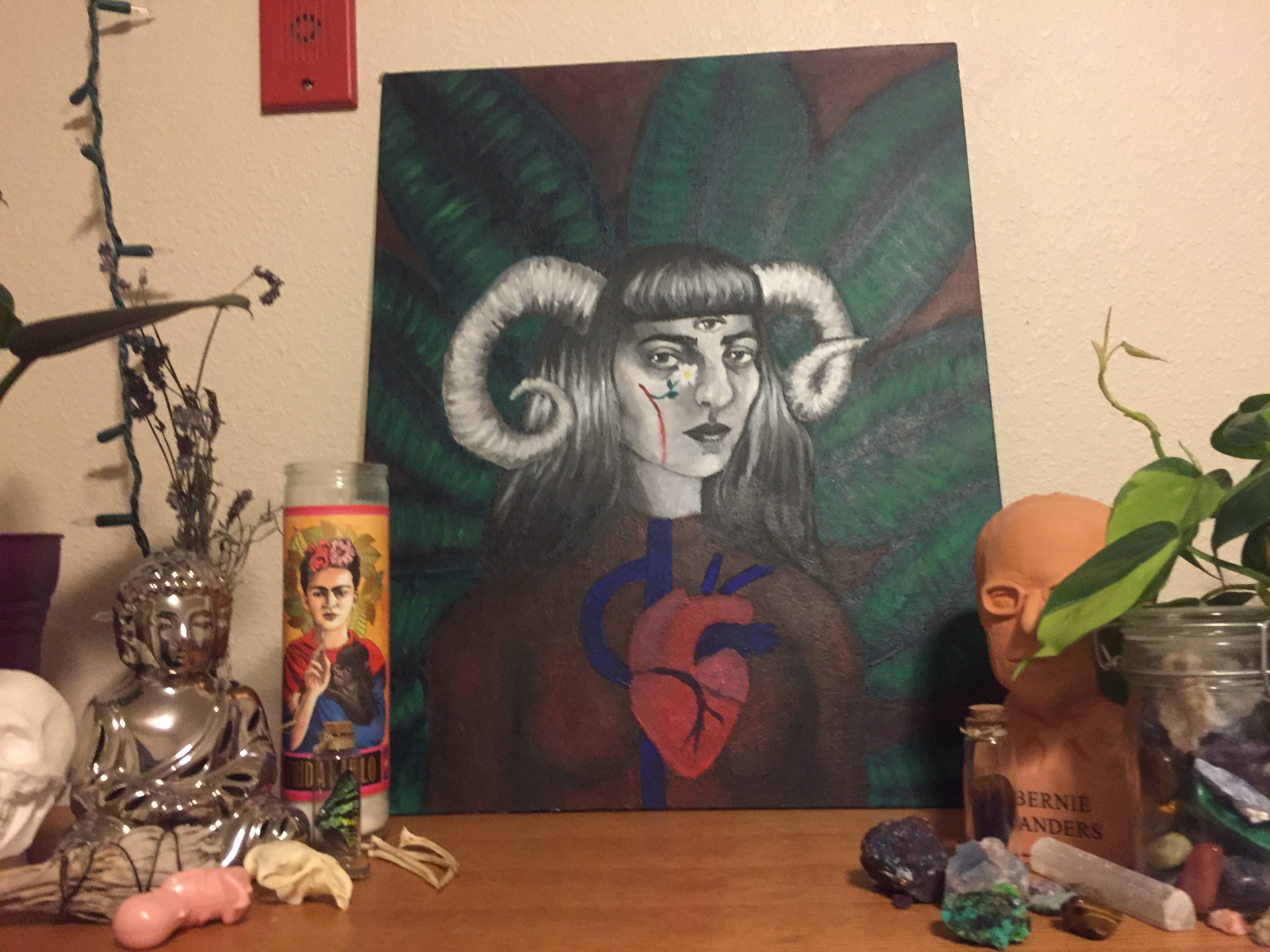 Working with her professors William Tourtillotte and Ron Monsma, she has seen her artistic abilities grow quickly since she started at IU South Bend. 
"It's just been crazy to think I've come so far in the matter of six months, especially now I've seen a huge improvement in my figure drawing," she says. "I've never had much success with it, but thankfully for Ron constantly telling us that we're going to draw figure, every day… it's frustrating but really nice. It's a hard thing to do, but having that constant push to do this is good." 
That constant push forward is something that Luce seeks out with her work, taking on diverse projects and studies.  
If there were more time, she would even consider picking up a third major in botany, since plants fascinate her and make their way into her artwork so frequently  
"I like plants and I like bugs, and weird animals. When I was younger I loved bugs, I would pick up worms, and I'm still that person," she says with a laugh. 
She finds that her personal work is influenced greatly by the artist Frieda Kahlo. Kahlo's story, her artwork, and expressions about her emotions and experiences resonate deeply with Luce.  
"I just find it relieving that someone is out there experiencing some of the same things that I've experienced. It's kind of nice, in that way," she says.